Raw Data Export report
The main purpose of Raw Data Export report is to display the actual consumption data for each meter under selected node exactly in the same state as it was imported to server.


User manual
After installation of KTC Server the Raw Data Export report is available in Reports web UI module. Report supposed to display hour/day/month consumption data that was imported or manualy added into the system. For better flexibility it has a variety of parameters that allows to configure any sort of consumption data export from meters. In the web UI application after report is choosen in drop down list its parameters are located in the right side bar. Before generating a report you have to select node in the navigation tree, after you should be able to see node name in the node field. Notice that only underlying meters will be taken into account when collecting data for them. Next should be set a date range in the fields Start Date and End Date, which allows to configure wide time range within day precision. Then data type should be selected in Time Resolution field in order to get hour, day or month consumption data from certain field sink. Under it there are production type and utility selectors by which will be filtered meters that belongs to them. You may also choose meter type and wether to show meters without data or not. After that click button Generate in order to create the report.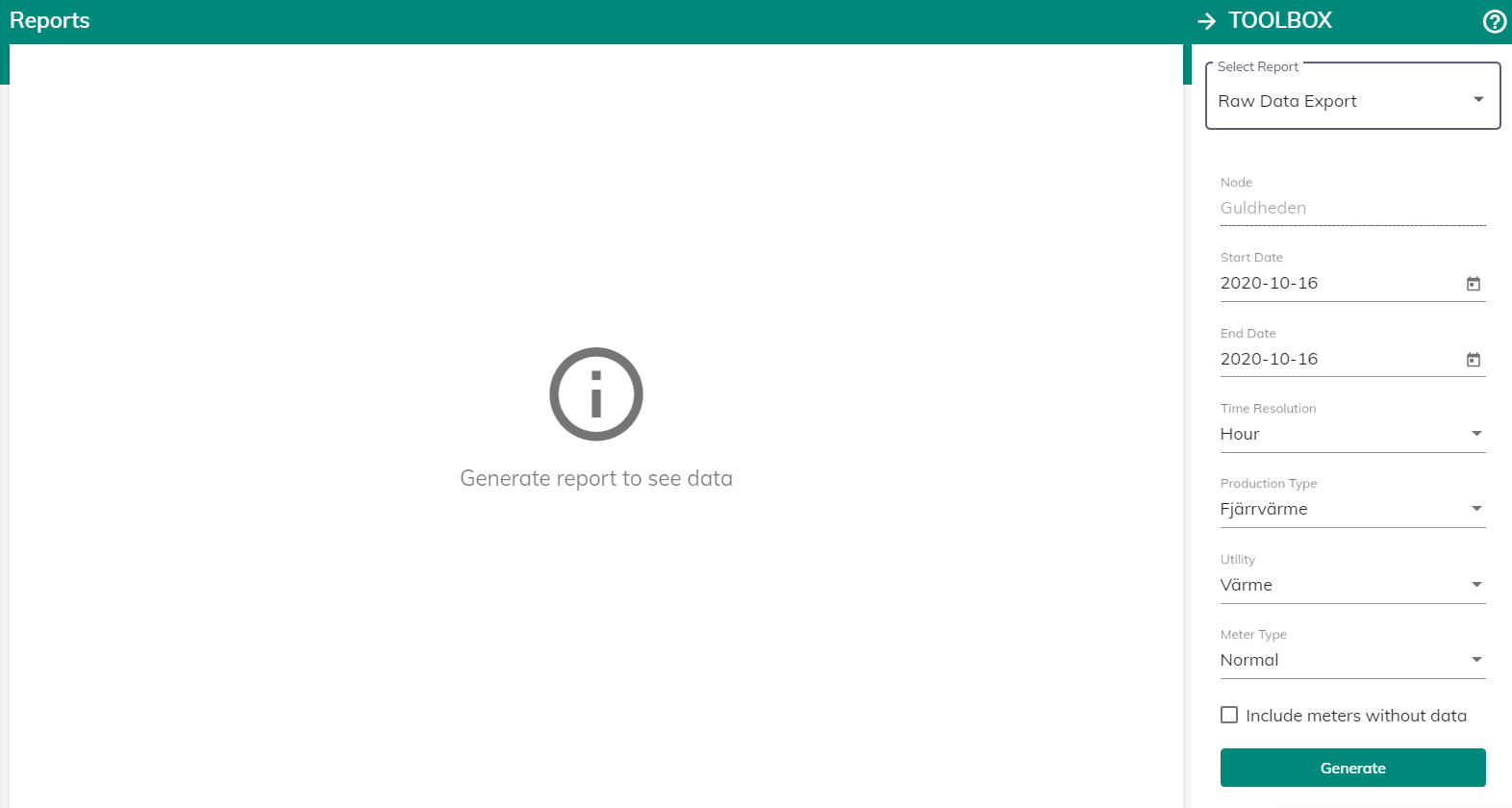 Report Parameters
Node - name of selected node in navigation tree
Start Date - begining of the period for data readout
End Date - end of the period for data readout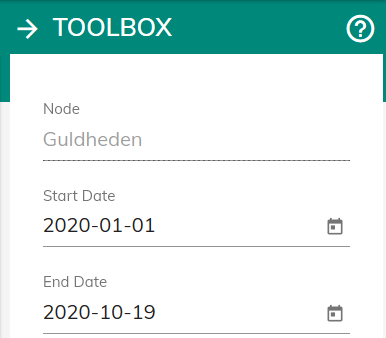 Time Resolution - there are 3 options to choose hour, day or month type. In case when selected month resolution data will be read from Month Consumption FieldSink, for day resolution data will be read from Day Consumption FieldSink, for hour resolution data will be read from Hour Consumption FieldSink. If customer has specific field sink configured for any of mentioned data it will be used for retrieving corresponding data.
Production Type - only meters with that production type will be displayed in the report
Utility - only meters with that utility will be displayed in the report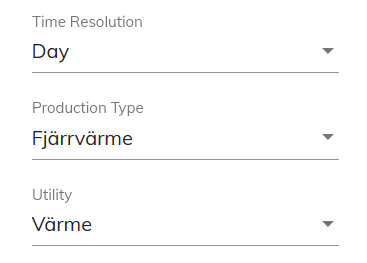 Meter Type - this setting allows to use in the report only meters with selected type. By default it is Normal meter type, but also could be selected Base meter, Sub meter, Calculated or Rest meter.
Include meters without data - by default this option is unchecked, when applying it means that report will show meters even there is no data to display

Example
In the snapshot below you can see an example of generated Raw Data Export report. It is configured to show day consumption data for all normal FV/HT meters under selected node Guldheden starting from 2020-01-01 till 2020-10-19.